Funniest movies of all time
A list of feel good, funniest Hollywood movies of all time. Help make this list better. Add you favorite movies.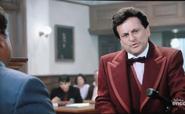 Two New Yorkers are accused of murder in rural Alabama while on their way back to college, and one of their cousins--an inexperienced, loudmouth lawyer not accustomed to Southern rules and manners--comes in to defend them
Joe Pesci and Maris Tomei deliver the funniest lines of their movie career.
Whats this over here?
You never heard of grits?
Sure I've heard of grits. I just never actually seen a grit before.
In London, four very different people team up to commit armed robbery, then try to double cross each other for the loot.
Oh, you English are so superior, aren't you? Well, would you like to know what you'd be without us, the good ol' U.S. of A. to protect you? I'll tell you. The smallest fucking province in the Russian Empire, that's what! So don't call me stupid, lady. Just thank me.
What is bushmen of Africa came in touch with civilization? Fun ensues.
I will take the thing to the end of the earth, and throw it off.
The end of the earth is very far from here; about twenty days' walking, or even forty.
4
Monty Python and the Holy Grail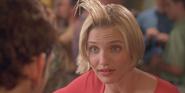 A man gets a chance to meet up with his dream girl from highschool, even though his date with her back then was a complete disaster
Think about it. You walk into a video store, you see 8-Minute Abs sittin' there, there's 7-Minute Abs right beside it. Which one are you gonna pick, man?
For fun loving party animal Ben Stone, the last thing he ever expected was for his one night stand to show up on his doorstep eight weeks later to tell him she's pregnant.
A wall street guy and street con artist trade places to settle a bet between two rich dudes.
You know, you can't just go around and shoot people in the kneecaps with a double-barreled shotgun 'cause you pissed at 'em.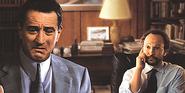 Billy Crystal is a psychiatrist and De Niro, the mob boss, is his #1 client. Not hilarious, but still pretty funny.
What is my goal here, to make you a happy, well-adjusted gangster?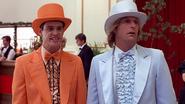 The cross-country adventures of two good-hearted but incredibly stupid friends. Jim Carey and Jeff Daniels are dumb and dumber. If you like Jim Carey movies, this is one not to miss.
Perhaps one of the most underrated comedies of all time. Lawrence and Freddie are con-men; big-time and small time respectively. They try to settle their rivalry by betting on who can swindle a young American heiress out of $50,000 first.
To be with another woman, that is French. To be caught, that is American.
Jonathan Mardukas embezzled 15 million dollars. The mob wants him dead. The F.B.I. wants him alive. Jack Walsh just wants him to shut up. An action comedy with a sharp script. Robert De Niro and Charles Grodin make an awesome pair. I wish De Niro made more comedies like this.
You two are the dumbest bounty hunters I have ever seen! You couldn't even deliver a bottle of milk!
Incompetent cop Frank Drebin has to foil an attempt to assassinate Queen Elizabeth II.
The staff of a Korean War field hospital use humor and hijinks to keep their sanity in the face of the horror of war.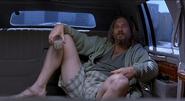 Jeff Bridges plays Jeff Lebowski who insists on being called "the Dude," a laid-back, easygoing burnout who happens to have the same name as a millionaire whose wife owes a lot of dangerous people a whole bunch of money -- resulting in the Dude having his rug soiled, sending him spiraling into the Los Angeles underworld.
You want a toe? I can get you a toe, believe me. There are ways, Dude. You don't wanna know about it, believe me
The funniest rock movie ever. Directed by Rob Reiner. With Rob Reiner, Michael McKean, Christopher Guest, Kimberly Stringer.
16
Ferris Bueller's Day Off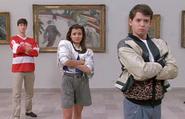 Ferris Bueller is a clever and tricky fast talker, a legend in his own time. He decides to call out sick from school, feigning illness, to embark on a wild adventure involving his girlfriend, Sloane Peterson, his best friend Cameron Frye, and a Ferrari. From Wrigley Field to the Art Institute of Chicago to a Polish Pride parade, Bueller and friends intend on making the most of their day off. However, Ferris' sister and the school dean, Ed Rooney, suspect that Ferris is simply pretending to be ill. Both Rooney and Ferris' sister Jeanie are hot on Ferris' trail and are determined to catch him and his friends in the act of class-cutting.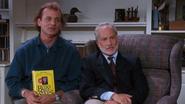 What About Bob? is a 1991 comedy film directed by Frank Oz, and starring Bill Murray and Richard Dreyfuss. Murray plays Bob Wiley, a psychiatric patient who follows his egotistical psychiatrist Dr. Leo Marvin on vacation.
Three buddies wake up from a bachelor party in Las Vegas, with no memory of the previous night and the bachelor missing. They make their way around the city in order to find their friend before his wedding
There was a time before cable when the local anchorman reigned supreme....Enter the hard-hitting world of the 1970s local TV news, where Ron Burgundy (Will Ferrell) and his loyal Channel 3 New Team are San Diego's #1 rated news source.
20
It's a Mad, Mad, Mad, Mad World
A 1963 American epic comedy film, produced and directed by Stanley Kramer and starring Spencer Tracy with an all-star cast, about the madcap pursuit of $350,000 in stolen cash by a diverse and colorful group of strangers.
Jim, Oz, Finch and Kevin are four friends who make a pact that before they graduate they will all lose their virginity.
Academy Award(R) winner Tom Hanks stars as Scott Turner, a compulsively neat detective whose tidy world goes to the dogs when he's forced to team up with a d...
Galaxy Quest is a 1999 comic science fiction parody film about a troupe of actors who defend a group of aliens against an alien warlord.
Two spoiled guys become competitive stepbrothers after their single parents get hitched. Starring Will Ferrell and John C. Reilly, directed by Adam Mckay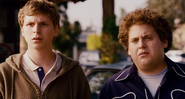 Two co-dependent high school seniors are forced to deal with separation anxiety after their plan to stage a booze-soaked party goes awry